Fark.com status page
This is the status page for Fark's behind-the-scenes geekery. If there's a major outage or problem, we'll try to post something here about it (unless we're too up to our eyeballs in trying to actually fix it)... so check here if Fark's hosed for an extended length of time. Normally this page will be blank. :-) For more minor issues, see Mike's blog, or much more likely, Mike's twitter, Drew's twitter, Fark twitter or all Fark staff/mod/admin twitters together.
Our normal hosting provider (since July 2019) is DigitalOcean. They have their own status page. This outage page is hosted at Amazon AWS in case of DigitalOcean problems.

---
Wed Feb 24 12:02:40 EST 2021: Rebooting everything for a security update, though you are unlikely to notice any impact.
Sat Feb 14 04:48:00 EST 2021 DB cluster locked up again overnight.
Sat Feb 13 06:22:44 EST 2021 DB cluster locked up overnight. Rebooted the secondary to get it back into shape.
Live basic (very basic) health check: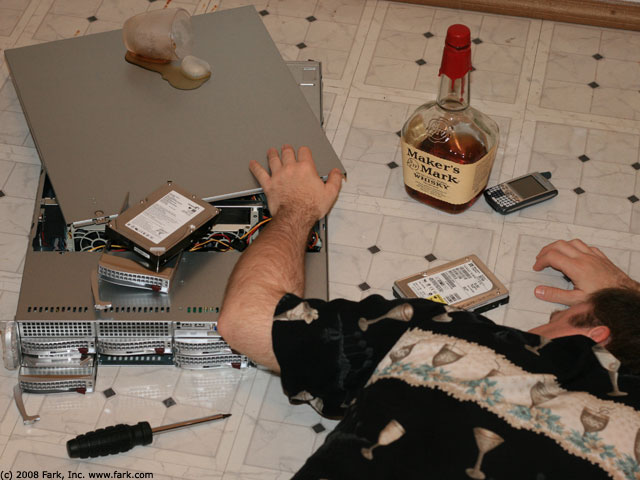 It's probably time I updated this picture from June 2008.
Copyright © 1999-2020 Fark, Inc