Fark.com status page
This is the status page for Fark's behind-the-scenes geekery. If there's a major outage or problem, we'll try to post something here about it (unless we're too up to our eyeballs in trying to actually fix it)... so check here if Fark's hosed for an extended length of time. Normally this page will be blank. :-) For more minor issues, see Mike's blog, or much more likely, Mike's twitter, Drew's twitter, Fark twitter or all Fark staff/mod/admin twitters together.
Our normal hosting provider is DigitalOcean. They have their own status page. This outage page is hosted at Amazon AWS in case of DigitalOcean problems.

---
Tue Jul 16 11:33:08 EDT 2019: I may have just solved the random 502 error issue. We're keeping an eye on it to make sure it helped. (We'd forgotten to bring over the config file that increased kern.ipc.soacceptqueue.) Thanks for your patience as we tweak our cloud config for best performance.
Thu Jul 11 15:35:45 EDT 2019: We just finished our cloud migration and obviously we need to do a few more performance tweaks. We're adding additional web servers and reworking our load balancer config today. This should solve the random 504 errors among other things.
No obvious issues at the moment.
Live basic health check: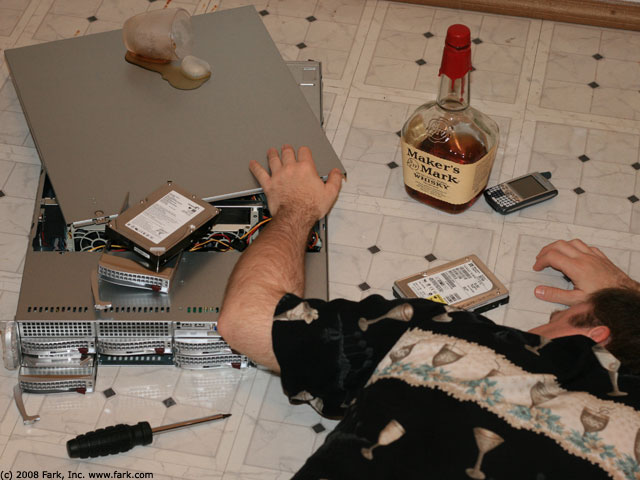 It's probably time I updated this picture from June 2008.
Copyright © 1999-2019 Fark, Inc